FLEAT-SP Standard Post System
The same FLEAT already in use all across America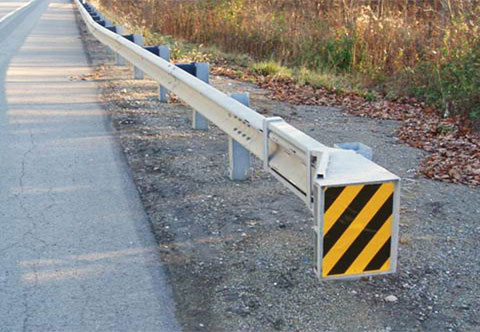 Enhanced upper and lower bolted Post #1
Hinged W6 Post #2, no ground strut
Cost savings for Post #3 and beyond:

Generic standard W6 steel guardrail posts
Standard W-Beam rail sections

Simplified installation and maintenance
How the FLEAT Functions
The FLEAT (FLared Energy Absorbing Terminal) is an energy-absorbing flared terminal. The flare is straight and the offset is variable anywhere between 2′-6″ and 4′-0″. The FLEAT is 37′-6″ long and has 7 posts. NCHRP 350 APPROVED!
The FLEAT combines the superior performance of the energy absorbing tangent terminals with the advantage of flared terminals in reducing nuisance impacts. During head-on impacts, the FLEAT head slides over the W-beam guardrail. The rail is sequentially kinked or bent as it moves through the head. The kinked guardrail exits the head safely and the vehicle is brought to a controlled stop. When impacted along the side within the length-of-need, the FLEAT functions like guardrail. The errant vehicle is safely redirected back toward its original travel path.
The FHWA has recommended that all non-energy-absorbing flared terminals have 200 feet or more of barrier proper in advance of the fixed object to allow for the vehicle to travel behind and beyond the end of the terminal.
Benefits and Features
The only component different from the SKT is the impact head. This greatly reduces inventory requirements.
When impacted end-on, the kinetic energy is able to be absorbed. With non-energy absorbing terminals, the errant vehicle may travel nearly the length of a football field behind and beyond the end of the terminal.
Only 7 posts are required.
The FLEAT has significantly fewer small components than any other flared terminal. This substantially reduces the installation and maintenance time.
The flare is straight, not a parabolic curve. This greatly simplifies the installation and improves the performance for traffic face redirection impacts.
The flare can be optimized to fit the site conditions. The flare is variable anywhere between 2′-6″ and 4′-0″. This may reduce the need for costly site grading.
The FLEAT is available from multiple distributors. This means the end of sole source supply.
Fits a wide range of applications:

Flared
Variable Offset
Wood or Steel Posts
Test Level 2 and 3 Speed