Box Beam Bursting Energy-Absorbing Terminal Single-Sided Crash Cushion
Now available in variable lengths of 28′, 32′, 36′, 40′, 44′ for sites needing additional length-of-need.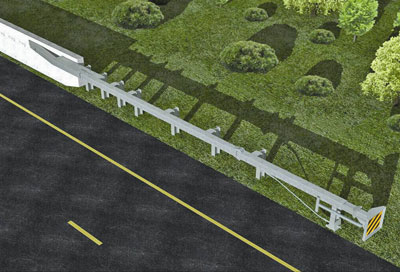 Ideal for restrictive site conditions often found on rural roads.
The short length of 28-feet is ideal for restrictive site conditions.
Attaches directly to rigid barrier, bridge abutments, bridge rails.
Available with Surface Mounted Posts or Ground Mounted Posts.
Ground mounted design never needs a concrete pad to be poured.
Both Post designs use all of the same above-ground components.
Stand-alone system serves as both a transition and end treatment.
Packaged to include everything (but anchor bolts) for complete installation.
Fewer components than competitive systems.
Much easier and quicker to install than competitive systems.
Easily repaired on site with damaged components easy to identify.
Offers low cost alternative to other crash cushions at many locations.